*FYI - this post may contain affiliate links, which means we earn a commission at no extra cost to you if you purchase from them. Also, as an Amazon Associate I earn from qualifying purchases. Check out our Privacy Policy and Disclosure for more info.
When it comes to Chinese desserts, few can rival the greatness of Black Sesame Tang Yuan, a legendary dish with origins that go back thousands of years.
Consisting of a rich sesame filling encased in a perfectly chewy skin, this satisfying treat is often served in a sweet, gingery broth, although some particularly gluttonous recipes call for a sweet black sesame soup base as well. Rest assured, either version is absolutely delicious.
And while Tang Yuan is most commonly associated with celebratory occasions like the Winter Solstice or Chinese New Year, they're so irresistible that there's really no bad time to enjoy them, especially when you learn how simple they can be to make at home with a few shortcuts as recommended by Papa G.
So, are you ready to endanger your waistline and those of all your loved ones? Keep scrolling for our foolproof Black Sesame Tang Yuan recipe. Trust us, once you go Black Sesame, you never go back sesame.
Tips for Nailing This Black Sesame Tang Yuan
This dessert can be tricky to get right if it's your first time. Here are a few notes/tips before you proceed to the full recipe!
Use Black Sesame Powder to Save Time
This Black Sesame Tang Yuan recipe is a bit lazy because it uses pre-ground Black Sesame Powder as a shortcut.
Many other recipes call for roasting/grinding black sesame seeds by hand to achieve the most flavourful results… but if you'd prefer an easier way, then this is the brand we use:
Make sure you use the right flour
To achieve the beautifully soft yet chewy texture of Tang Yuan, we need to use Glutinous Rice Flour. Regular white flour cannot be used as a substitute, so make sure you get the real deal if you want to do this dessert justice!
Here is the brand we use:
Freeze your filling before using it
This will make it a lot easier to work with… and helps it maintain its shape during the cooking process!
Go by feel to achieve the perfect wrapper dough consistency
When it comes to dough, there is rarely a foolproof universal recipe. This is because different brands of flour can absorb water differently, plus getting precise measurements for liquids can be a bit of a pain.
That is why we'd recommend going by feel when you're working with your dough, rather than strictly by numbers. In fact, you'll notice in this recipe that we give a range for the amount of water to add to the dough. This is because the exact amount can vary, depending on your flour brand. We'd recommend always starting with adding a small amount of water, then adding a bit more little by little until you get your desired consistency.
The final product should be smooth and easy to work with, like this:
Ingredients for Our Black Sesame Tang Yuan Recipe
For the Filling:
80g sugar
60g melted butter or lard
35g water
For the Wrapper:
240g glutinous rice flour
140 mL boiling water
50-60 mL room temperature water
For the Broth:
3 cups water
100g sugar
OPTIONAL: 6 slices of ginger
Step by Step Instructions for Our Black Sesame Tang Yuan Recipe
While they take a bit of work, these Black Sesame Tang Yuan are well worth the extra effort. Here are the step by step instructions!
To prep the filling, mix all the filling ingredients together in a freezer-safe container until it's a nice smooth paste. Freeze for later use.
To prep the wrapper dough, combine your boiling water and glutinous rice flour in a large bowl. Mix it with a wooden spoon or chopsticks for 30 seconds, then add your room temperature water.
NOTE: Different brands of flour absorb water differently, so add 40mL first, and start kneading. If it's still too dry, then add additional water little by little until you get a smooth dough, or some extra glutinous rice flour if the dough is too wet.
Set your wrapper dough aside for 10 minutes.
In the meantime, remove your filling from the freezer and divide it into approximately 10g pieces. Roll these pieces into small balls with your palms, and return them to the fridge to ensure they don't melt or become too soft.
Divide your wrapper dough into 18g pieces. To do this, you can divide your dough in half, then roll each half out into a thin rope, and cut it up into equal sections.
When you're ready to assemble the Tang Yuan, remove your balls of sesame filling from the fridge.
To wrap your filling, roll each piece of wrapper dough into a sphere, then push your thumb into the sphere to create a large indent, like so:
Fill the hole with a ball of sesame filling…
Then seal it shut, making sure that all black sesame filling is adequately covered.
Roll the ball between your palms to make it perfectly spherical again.
NOTE: Take care to rub off any residual black sesame filling on your fingers by pressing them into the dough while making your indent. This will help ensure your wrapper stays clean and white!
To cook your Tang Yuan, bring three cups of water to a boil, then add 1/2 cup of cold water. This helps cool down the water to an ideal temperature so that the Tang Yuan don't explode. Add 100g of sugar to the broth.
Then add in your Tang Yuan.
As they cook, add in your slices of ginger (if using).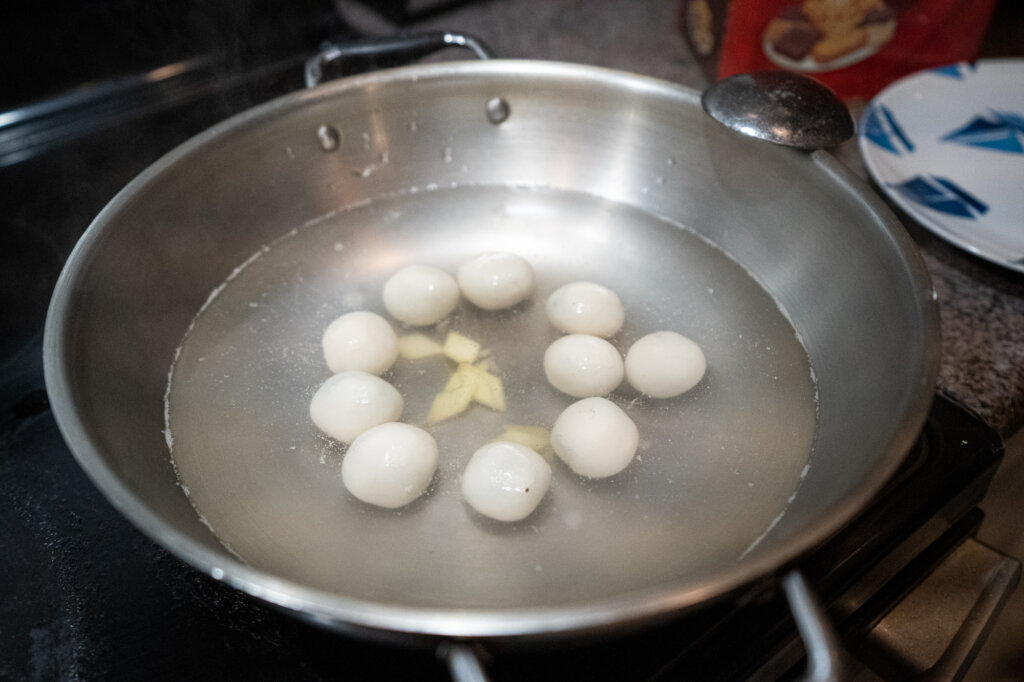 When the Tang Yuan float to the top, they're ready to eat! Remove the Tang Yuan with a slotted spoon, and serve them in a bowl with a few scoops of your sweet ginger broth. Then, it's time to enjoy!
We Hope You Enjoy Our Black Sesame Tang Yuan Recipe!
Let us know in the comments if you have any questions, or be sure to let us know if you've tested the recipe out. We're always looking to improve our recipes and make sure they taste great for everyone.